Pierre Auguste Renoir | The Final Years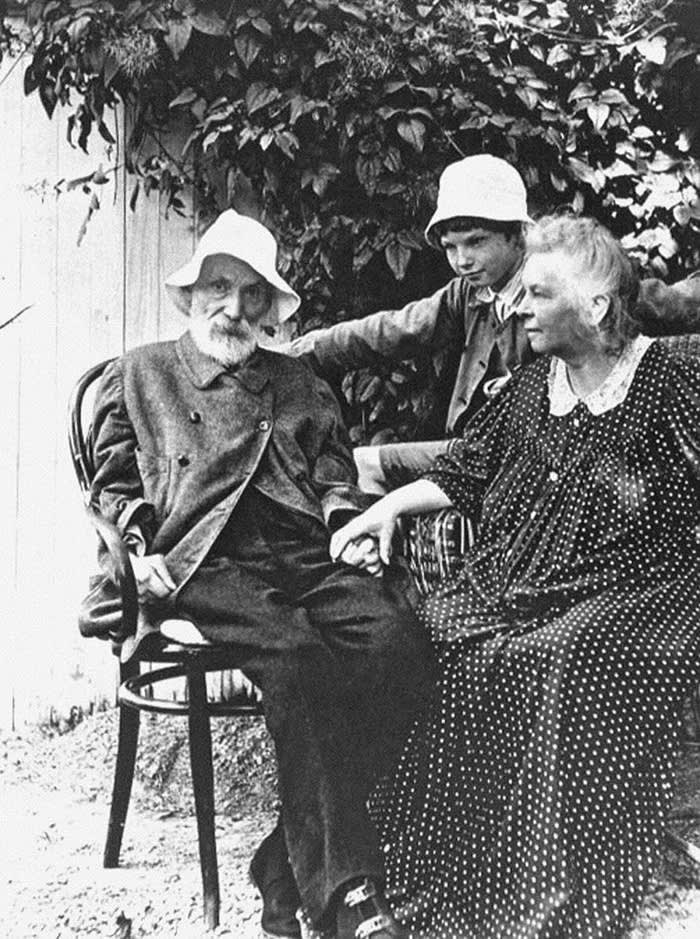 Pierre-Auguste and Aline Renoir, Les Collettes, Cagnes-sur-Mer
"I never see an orange tree in flower without thinking of Cagnes. And thinking of Cagnes immediately conjures up the figure of my father. For it was there that he spent the best of his last years… The shadow cast by the olive trees is often mauve. It is in constant motion, luminous, full of gaiety and life. If you let yourself go, you get the feeling that Renoir is still there and that you are suddenly going to hear him humming as he studies his canvas."

Jean Renoir
By the final years of his life Renoir had garnered widespread respect and appreciation. He had become a source of inspiration for a new generation of artists and even gained the approval of the State, being awarded title of Chavalier of the Légion d'Honneur (a title he was fearful of accepting in case he upset Monet). Weeks before his death in 1919 Renoir achieved his true lifelong ambition; seeing his works hung in the Louvre alongside the Old Masters. He humbly confessed "I've always contradicted those who called me a radical painter. I've always thought and I still think that I've done nothing but continue that which others did, and a lot better, before me".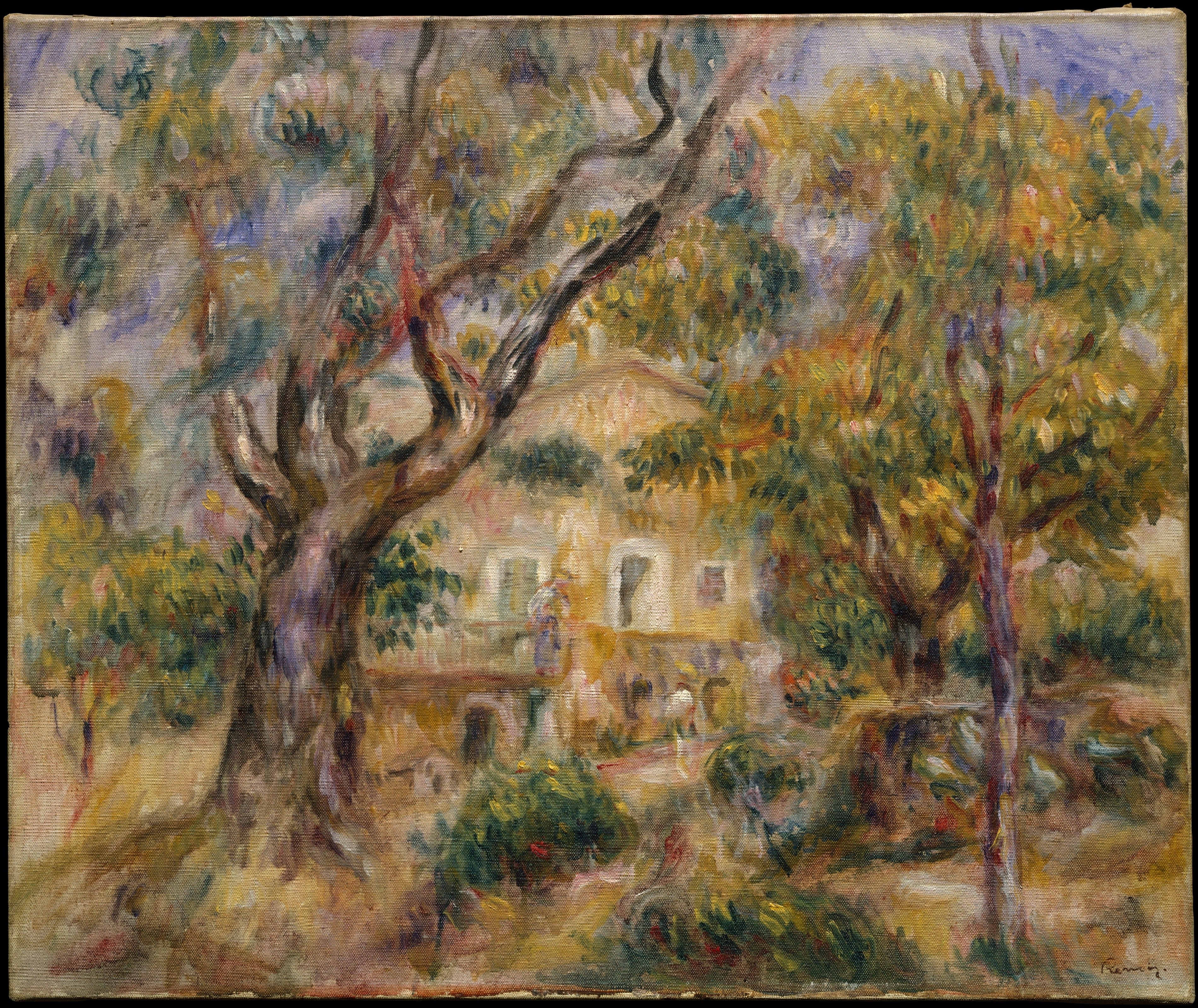 Pierre-Auguste Renoir,
The Farm at Les Collettes, Cagnes,
1908-14, Oil on canvas, Metropolitan Museum of Art, New York
With his arthritis worsening, from 1908 Renoir spent the summer months in the village of Essoyes, Champagne, the hometown of his wife Aline, and the rest of the year at his house Les Collettes, in Cagnes-sur-Mer, making occasional trips to Paris to see exhibitions and visit friends.

It was at Les Collettes that Renoir painted many of his late masterpieces. The farmhouse became a gathering place for his fellow artists, friends and admirers from across the world. His friend Rodin and younger followers such as Maurice Denis, Albert André and Pierre Bonnard were amongst those that paid homage to Renoir in this magical setting.
Pierre-Auguste Renoir in his studio, Les Collettes, Cagnes-sur-Mer, 1917
Bound to a wheelchair after a stroke in 1912, Renoir relied upon the landscape and people around him for inspiration. Aline, who modelled for many of his important works, died in 1915 and Renoir took to painting his maid Louise, cook Marie Dupuis, housekeeper Nénette and a young girl from the village called Madeleine Bruno.

Renoir's son Jean was injured in World War I and returned to Les Collettes to recuperate. He recalled how

"His hands were terribly deformed. His rheumatism had made the joints stiff and casued the thumbs to turn inward towards the palms, and his fingers to bend towards the wrists. Visitors who were unprepared for this [exclaimed]… "It isn't possible! With hands like that, how can he paint those pictures? There's some mystery somewhere." The "mystery" was Renoir himself"

Pierre-Auguste Renoir (centre) seated between Henri Matisse (left) and Greta Prozor (right), with Claude and Jean Renoir stood at Les Collettes, Cagnes- sur-Mer
Matisse first met Renoir in 1917 having moved to Nice that year, and took to visiting his friend regularly over the next two years. To Matisse's amazement Renoir would strap brushes to his hands in order to paint. Impressed by the elder artist, Matisse wrote of how "The work of Renoir … saves us from whatever drying effect there is in pure abstraction." He also introduced Renoir to one of his favourite and final models, Andrée Heuschling, who later married Jean.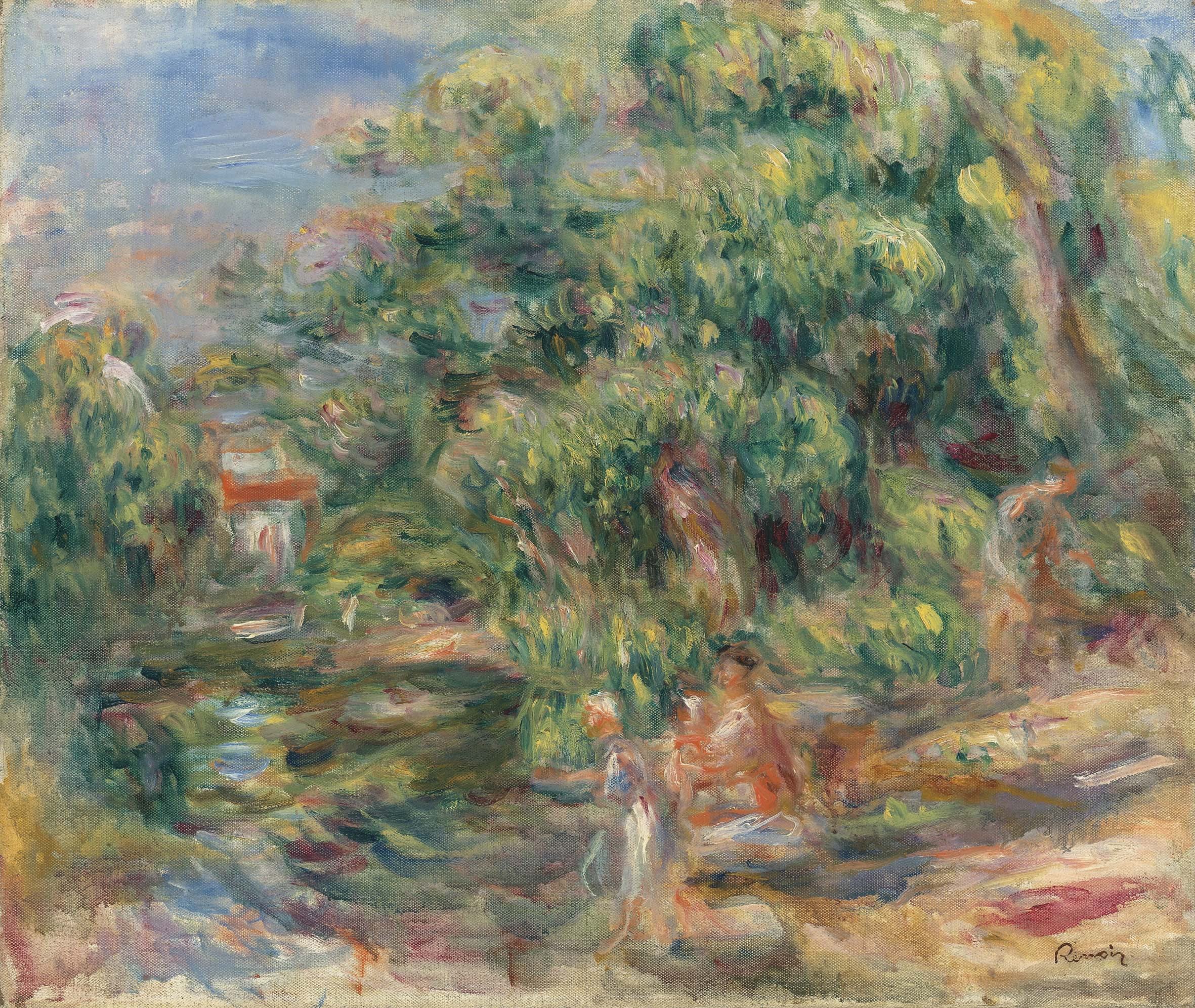 Pierre-Auguste Renoir, Lavandières au bord du Loup, 1917, Oil on canvas, Connaught Brown, London
During one of the art dealer Ambroise Vollard's visits to Les Collettes in 1916, Renoir declared how "I think this time I've got the secret of painting! … What a pity that every bit of progress one makes is only a step towards the grave! If I could only live long enough to do a masterpiece!".

In these final years Renoir created an impressive series of bucolic landscapes and a painting he considered to be the culmination of his life's work - Les Baigneuses (1918-1919) which now hangs in the Museé d'Orsay.
Pierre-Auguste Renoir,
Les Baigneu
ses, c. 1918-19, Oil on canvas, Musée D'Orsay, Paris
April 28, 2020